Vegan Chocolate Truffles - 70% Dark Vegan Chocolate Truffles, Handmade, Gluten-Free
Meet Ronald Vegan, a presidential vegan truffle if there ever was one. Ronald Vegan clocks in at 70% dark chocolate, and totally vegan & gluten-free. Don't bite it - suck it. That's how to savor the deep, dark vegan chocolate of this amazing flavor. You'll first experience the giddying effect of the extra-brut Swiss cocoa powder as the outer layer of dark vegan chocolate begins to melt in your mouth. Then comes the best part, the deep, dense chocolate truffle. Infused with a double dose of vanilla, it releases its fragrance & depth. Firmer than our regular fudge, suck on this vegan chocolate to release the full flavor. Awesome with coffee. A democratic people free to choose will always choose Ronald Vegan. All hail the Chief!
Honest Ingredients: All natural gourmet vegan chocolate truffles. Gluten Free. No Corn Syrup. No Preservatives. Always Fresh.
Personality: Commander-in-Chief.
Flavor Profile: Best vegan chocolate truffle ever!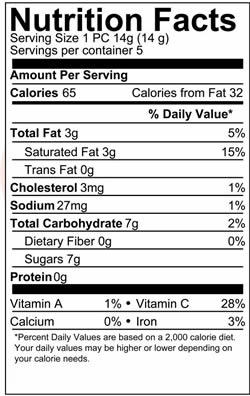 INGREDIENTS: Extra Dark Cocoa Paste, Cocoa Butter, Natural Cane Sugar, Pure Vanilla Extract, Cocoa Powder, Vegetable Oil, Sea Salt, Vitamin C, Soy Lecithin.
CONTAINS: SOY. May contain traces of tree nuts.