Caramel Truffle with Chai Spices
Meet Chaikovsky, a classic prodigy if there ever was one. This caramel is infused with a melodic blend of chai spices designed to enhance the caramel note. Deep, spicy, but never "hot", this blend is the best chai around. Like all Cocopotamus caramels, Chaikovsky is an "un-caramel" that is less sweet & never sticky, blended with dark chocolate and put into a dark chocolate truffle. The final touch? It is hand-painted with a dash of edible shimmer. Bravo, bravo.
Honest Ingredients: All natural gourmet caramel fudge truffles. Gluten Free. No Corn Syrup. No Preservatives. Always Fresh.
Personality: Pure genius.
Flavor Profile: Well balanced, fragrant blend of chai spice and light caramel sweetness.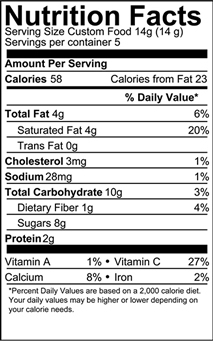 INGREDIENTS: Whole Milk, Cocoa Paste, Natural Cane Sugar, Cocoa Butter, Skim Milk Powder, Milk Fat, Cocoa Powder, Cardamom, Ginger, Cinnamon, Pure Vanilla Extract, Black Pepper, Vegetable Oil, Sea Salt, Vitamin C, Soy Lecithin.
CONTAINS: MILK & SOY. May contain traces of tree nuts.