Eggnog Brandy Caramel Truffles
Meet Humpty, the go-to party guy here at Cocopotamus. He's the perfect host: inviting, fun, good-looking. Humpty is an Eggnog caramel made with freshly grated nutmeg and generous lashings of Brandy. Nostalgic, warm, delish. Like all Cocopotamus caramels, Humpty is an "un-caramel" that is less sweet & never sticky, blended with dark chocolate and put into a dark chocolate truffle. Topped with random frosting, this is one good egg.
Honest Ingredients: All natural gourmet caramel fudge truffles. Gluten Free. No Corn Syrup. No Preservatives. Always Fresh.
Personality: Perfect party host...Martha Stewart meets Casanova.
Flavor Profile: Eggnog revisited in a caramel.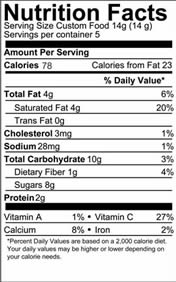 INGREDIENTS: Whole Milk, Cocoa Paste, Natural Cane Sugar, Cocoa Butter, Skim Milk Powder, Milk Fat, Cocoa Powder, Brandy (Thickened with Natural Xanthum Gum), Nutmeg, Pure Vanilla Extract, Vegetable Oil, Sea Salt, Vitamin C, Soy Lecithin, Turmeric.
CONTAINS: MILK, ALCOHOL & SOY. May contain traces of other tree nuts.