Gourmet Dark Chocolate Truffles with Italian Espresso & Rum: All Natural, Handmade, Gluten-Free Chocolates
Godfather takes irresistible Italian espresso dark chocolate fudge truffles to new heights. How? With an amazing jolt of rum. The resulting taste is a flavor sensation.
The flavor of this chocolate truffle begins with the feeling that you are in a piazza in Italy having a freshly drawn espresso. The bold flavor of the espresso and of the dark chocolate are distinct yet well-paired. The difference with Godfather is the depth of flavor made more intense by the addition of rum and fragrant, nutty almond. It's a fudge you can't refuse.
Like all our Cocopotamus fudge-filled chocolate truffles, Godfather is handmade, artisanal, all natural dark chocolate fudge in a hand-dipped dark chocolate ball. Godfather is topped with a dark roasted coffee bean and then hand-painted with shimmering edible glitter in deep purple.
Honest Ingredients: All natural gourmet chocolate fudge truffles. Gluten Free. No Corn Syrup. No Preservatives. Always Fresh.
Personality: Capo di tutti cappucini.
Flavor Profile: Outrageous blend of espresso, almond & rum.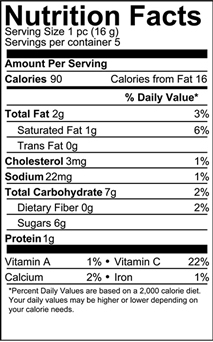 INGREDIENTS: Cocoa Paste, Whole Milk, Natural Cane Sugar, Cocoa Butter, Cocoa Powder, Espresso Coffee, Espresso Coffee Beans, Natural Almond Extract, Rum (Thickened with Natural Xanthum Gum), Pure Vanilla Extract, Vegetable Oil, Sea Salt, Vitamin C, Soy Lecithin.
CONTAINS: MILK, RUM & SOY. May contain traces of tree nuts.